Introduction
We developed the bee hives weight scales with the most possible simplicity for user. The bee hives weight scales are completely wireless and without need to change batteries. The weight scales collect data and send them into a cloud. The data are easily accessible through a user-friendly web interface. Your bee hives are always safe thanks to real time data analysis.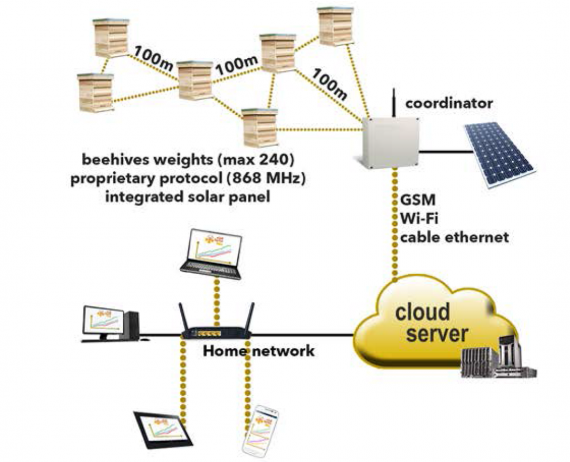 Solution
The weight scales use a mesh networking with range of 100 meters between the individual nodes. It uses an 868 MHz bandwidth to communicate. Power consumption was reduced to minimum level while maintaining high frequency of sent data (every 5 minutes). A low capacity lithium battery and a miniature solar panel are enough to keep nodes active.
Data are collected by central node, which is connected to the Internet through GSM or directly through Ethernet (Wi-Fi or cable) if it is possible. The central node is powered by lead battery – 12V, 7.2Ah, as long as it is using GSM connection. It is possible to avoid changing batteries using the miniature solar panel.
Central node send the data to our cloud where they are accessible to user through a user-friendly web interface (could display on mobile phone, tablet or PC). On the similar principle, we are able to process the data from various sensors. We can use our experiences with the bee hives weight scales in other industrial automation situations.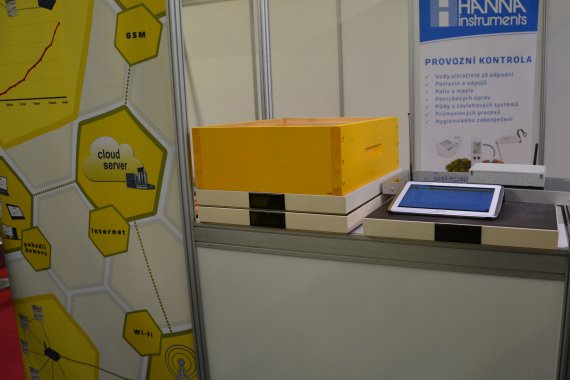 Conclusion
Data collecting from the bee hives weight scales is more efficient and cost-cutting using IQRF modules. There is no need to personally visit the bee hives weight scales or to acquire cables. Moreover, using wireless technology allows fast and easy moving to other locations without changing cables. Solar panels ensure enough power to use the bee hives weight scales in mesh network. Therefore the whole solution is maintenance-free. Main advantage is flexibility. Thanks to wireless technology customer is able to add nodes in just few minutes without programming.
Visit http://www.iqrfalliance.eu/technology and make your own solution.